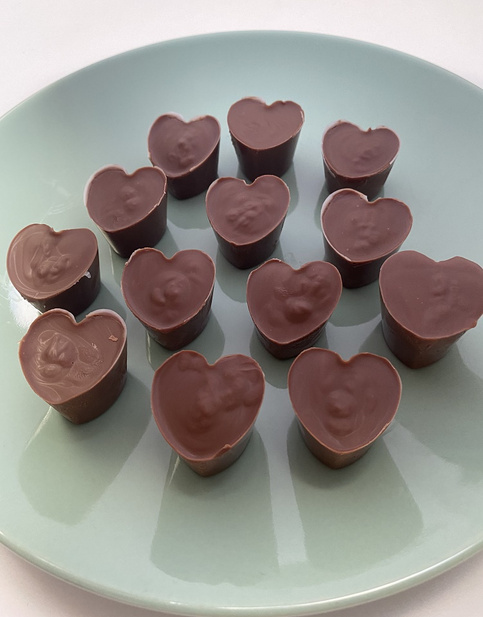 Recipe
chocolate pralines
Ingredients:
100g milk chocolate
100g white chocolate
3 measuring scoops Humana Junior Drink* powder (approx. 10.5g)
3 tbsp chopped hazelnuts
at least 1 measuring scoop from a Humana product with the innovative myHumanaPack to use as a praline mould
*Hint: The amount of powder in a Humana Junior Drink sample package is enough for this recipe!
Method:
Chop the white chocolate and melt it in a water bath or in the microwave. In the meantime, roast the hazelnuts in a pan without oil.
Fold the Humana Junior Drink* powder into the white chocolate a little at a time, then stir in the hazelnuts.
Allow the chocolate to cool until it is a bit firm and clumps slightly (approx. 20-30 minutes). If necessary, fold in more Junior Drink powder.
When it is ready, form little balls and place them in the measuring scoop that will be used as a mould.
Chop the milk chocolate and also melt it in a water bath or in the microwave. Fill the rest of the special measuring scoop with the melted chocolate.
Let the pralines set and then tap them out of the measuring scoop.
Further
recipe ideas

for small and large